Travel number: 128
Print trip
ASHTANGA VINYASA YOGA TEACHER TRAINING IN RISHIKESH
15 days
Certified Yoga Teacher Training Courses
Number of participants: 4-16 participants
Requirements: 7 von 10

This intensive yoga training requires a lot of discipline and commitment. In order to obtain the certificate, no hours of absence may be recorded and a theoretical and practical examination must be passed.
15 Days 80 Hours Yoga Teacher Continuing Education

We are very pleased to offer you this 2-week Ashtanga Yoga Teacher Program as a training program for yoga teachers. this course is also suitable for yogis who are interested in deepening their Ashtanga Vinyasa self-practice.
Our two experienced Ashtanga yoga instructors Sarah and Noor will teach you all aspects of this strong yoga style. In the first week you have LED Ashtanga Vinyasa yoga classes in the morning. In the 2nd week we change to the Mysore style.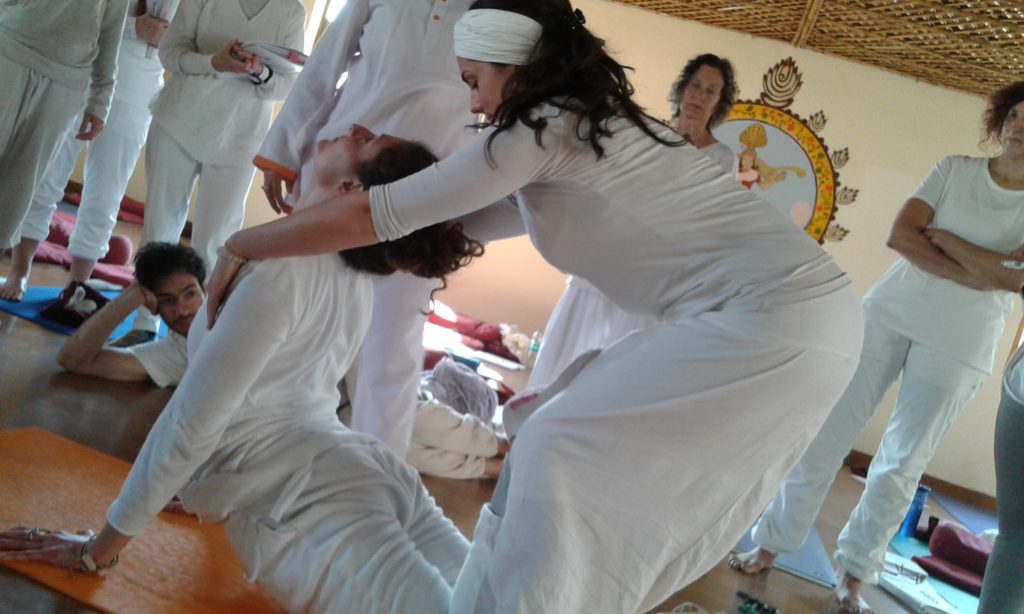 The rest of the day you will have theory classes and practical workshops on all topics of Ashtanga Yoga.
Some days we will also visit other ashrams to meet other Ashtanga yoga teachers.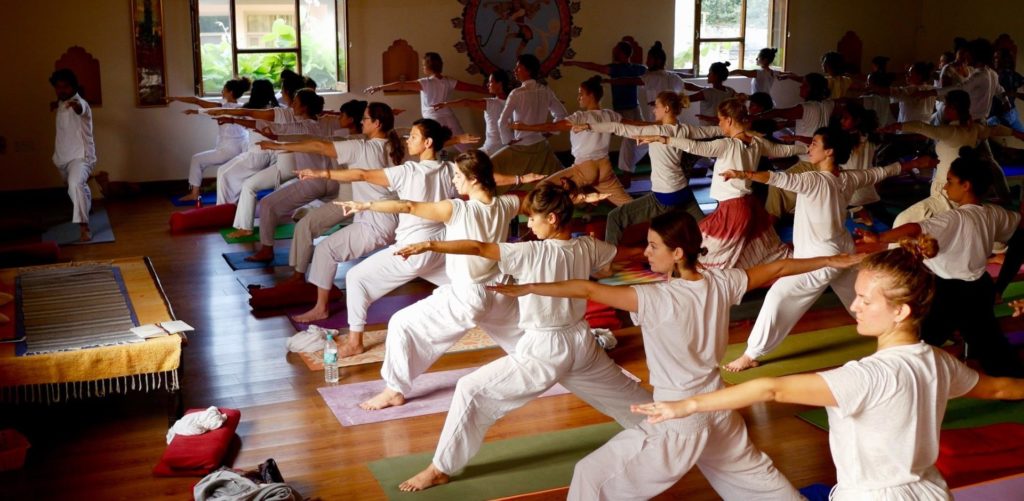 Course content
History and Theory of Ashtanga Vinyasa Yoga
Ashtanga Yoga Beginning and Final Prayer
Counting in Sanskrit
Ujjay Breath
Ashtanga Yoga Sequence
Cuing, Alignment, Adjustments, Variations and Pushings of Ashtanga Yoga Asanas
Teaching LED classes for beginners and advanced students
Mysore style
strong self-practice

This course is for:
For Yoga Teachers want to be trained in Ashtanga Vinyasa Yoga
Interested yogis deepen their Ashtanga yoga practice
all who want to spend 2 weeks in an Indian ashram in Rishikesh with a strong Ashtanga yoga practice
For registered Yoga Teachers of the Yoga Alliance who want to receive certified training hours
Overview of the course
In addition to the Ashtanga Vinyasa Yoga classes, the theory classes and workshops, we will also participate in the routine of the ashram in which we stay.
These include morning meditation, fire ceremony, meals and an evening program with satsang, kirtan and meditation.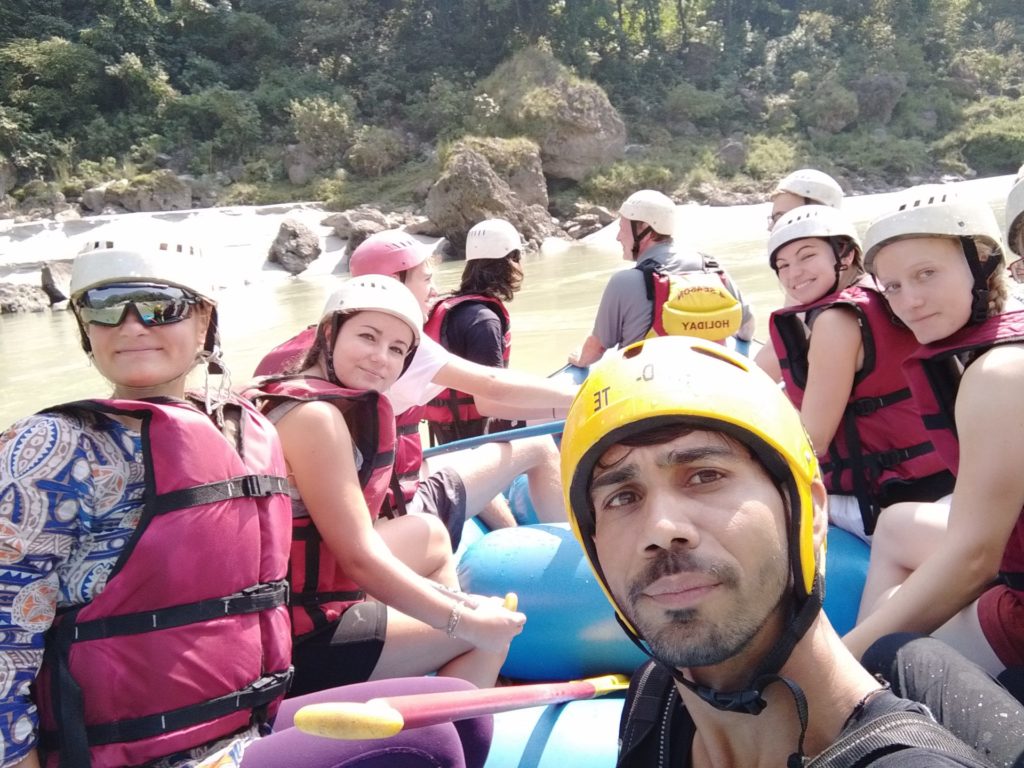 Sunday is free, and we'll take you to some fun activities and sightseeing in Rishikesh.
In the last 2 days we will take you on a trip to the holy city of Varanasi.
About Rishikesh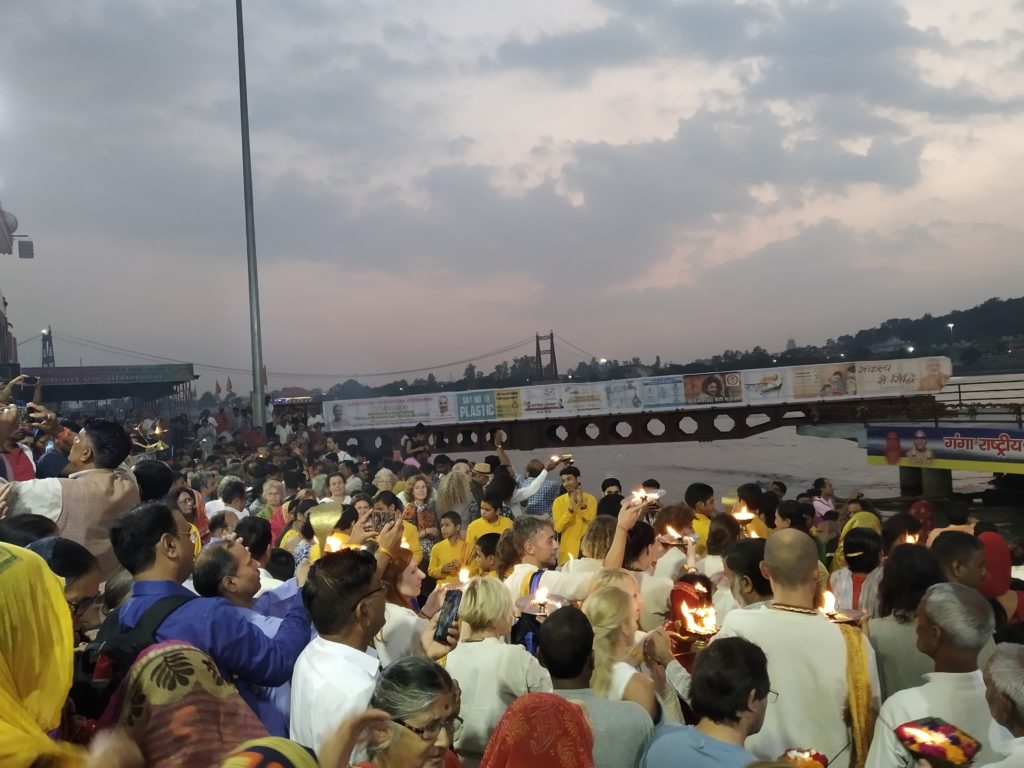 The spiritual place Rishikesh is located at the holy Ganges at the foot of the Himalayas. Surrounded by forest and mountains, the city consists of a colourful collection of temples, ashrams and yoga schools. Every day, pilgrims from all over India come to take a holy bath in the Ganges and take part in the ceremonial ceremonies. Baba ji's (holy men) sit in deep meditation on small rocks on the banks of the aisle, shining candles float on the river every evening for the fire ceremony, and Hindu prayers and mantras ring everywhere.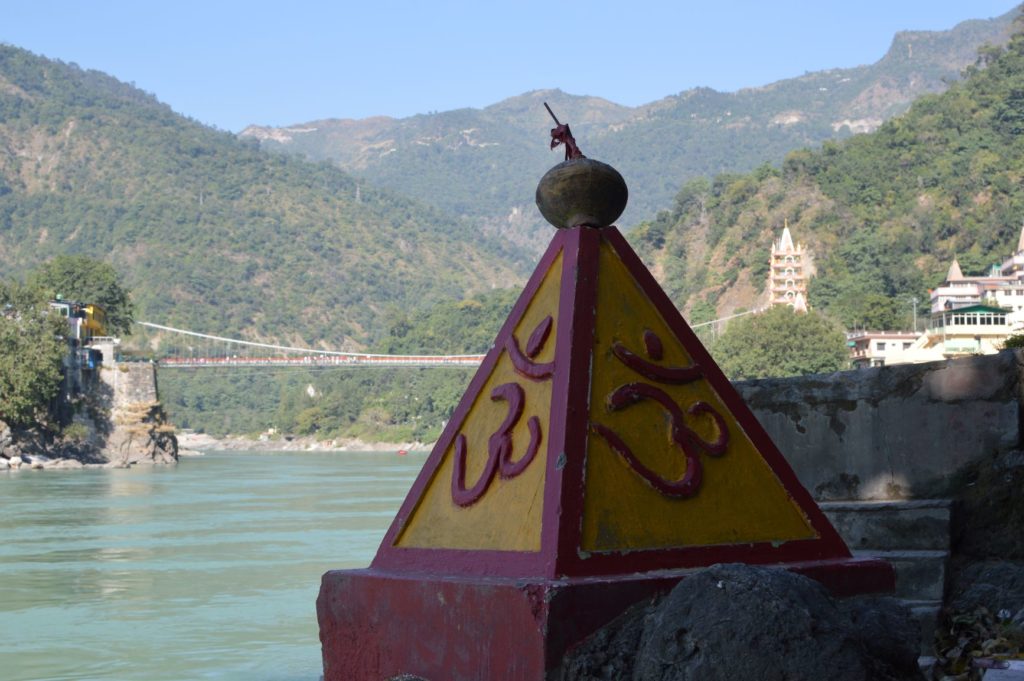 The lived spirituality is contagious and very quickly you become a part of it and develop an intensive yoga practice in a structured everyday life.
In this wonderful place is the equally beautiful little Anand Prakash Ashram.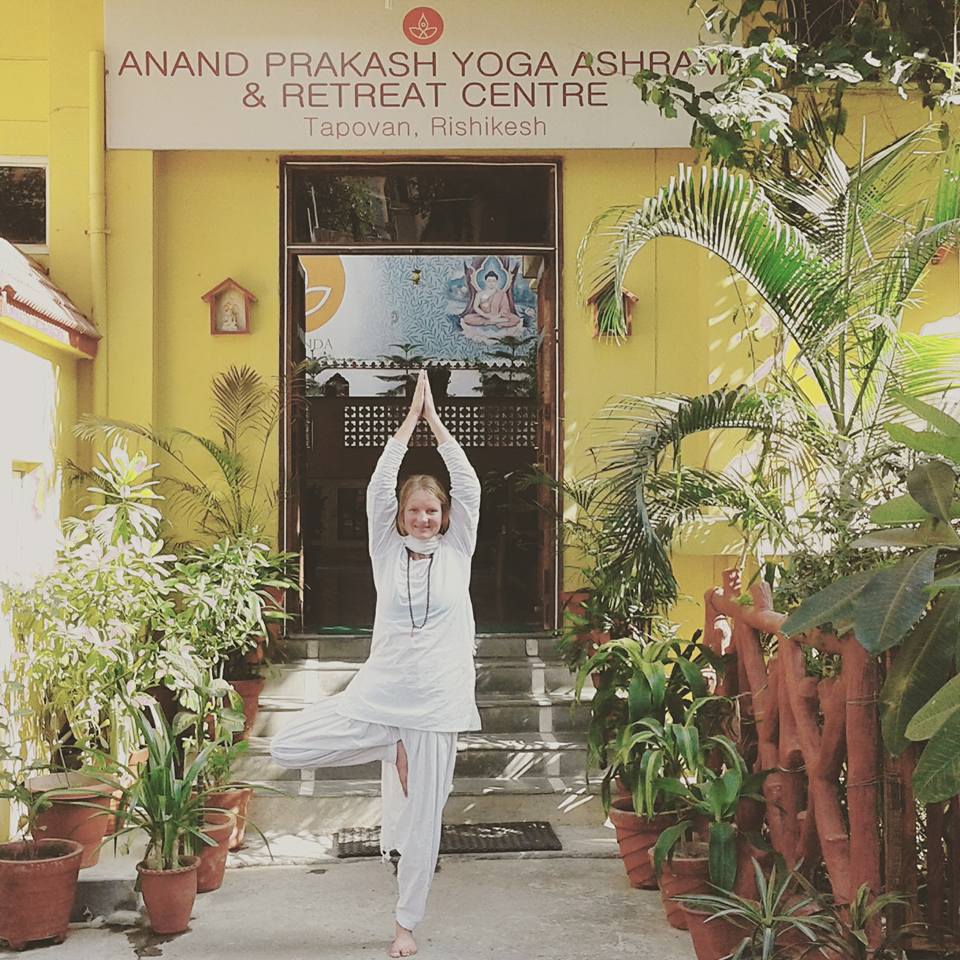 Here all aspects of yoga are brought together into one unit.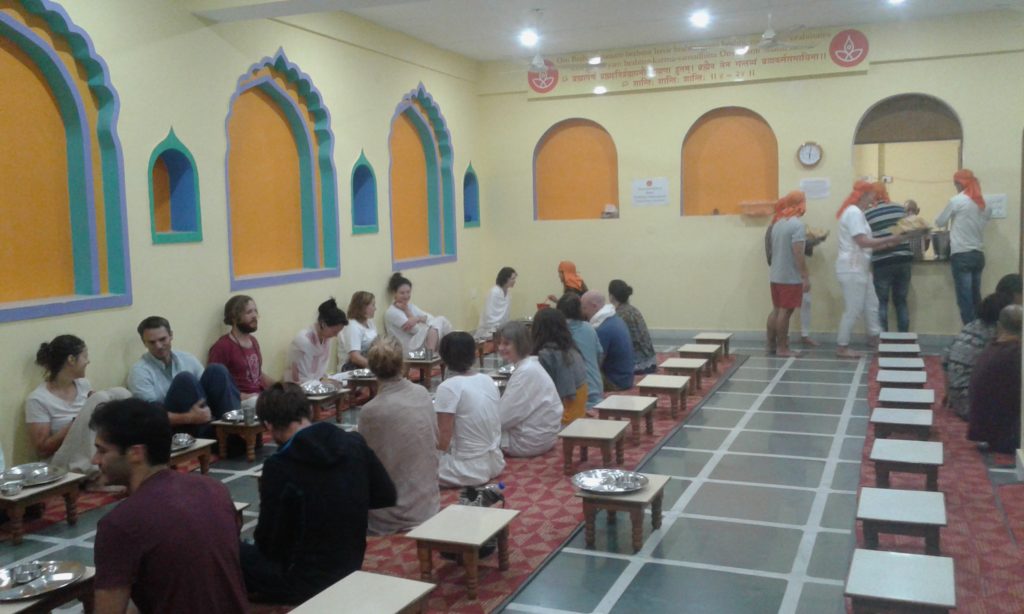 The ashram provides a good setting for a healthy yogic lifestyle with a regular daily routine, delicious and vegetarian food, yoga classes and ashram events, such as the morning fire puja (prayer) and Kirtan chants.
Day 1 Independent arrival to Delhi, transfer from the airport to the hotel
You will be welcomed by us at the airport and taken to the hotel.
Day 2 Onward journey to Rishikesh and arrival at the Ashram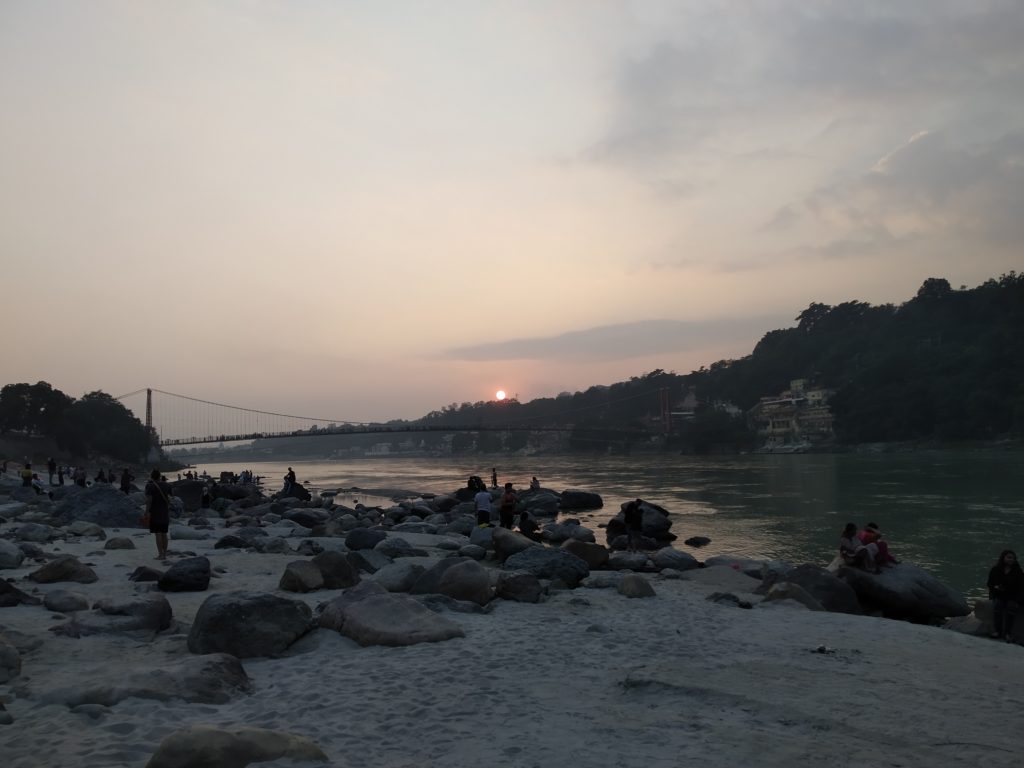 After some peace and relaxation, our trip to Rishikesh continues by private minibus (6 hours). In the evening we arrive for dinner at the Ashram.
Day 3 to 13 Ashtanga Vinyasa Yoga Course at Ashram
We enjoy the next 11 days at the Ashram with daily morning meditation, Ashtanga yoga classes, fire ceremony, lectures, workshops, three healthy yogic meals, excursions and an evening ashram program. (Kirtan, Satsang, Sound Meditation, Singing Bowl Concerto)
Daily program:
5:20-5:50 am guided meditation
6:00-7:45 am Ashtanga Yoga Class (LED and Mysore Style)
8:00 am Fire Ceremony
8:30-9:00 am Breakfast
9:30 am – 12:00 pm Ashtanga Yoga Theory Lessons (History, Philosophy, Orientation, Teaching Method)
12:30 pm Lunch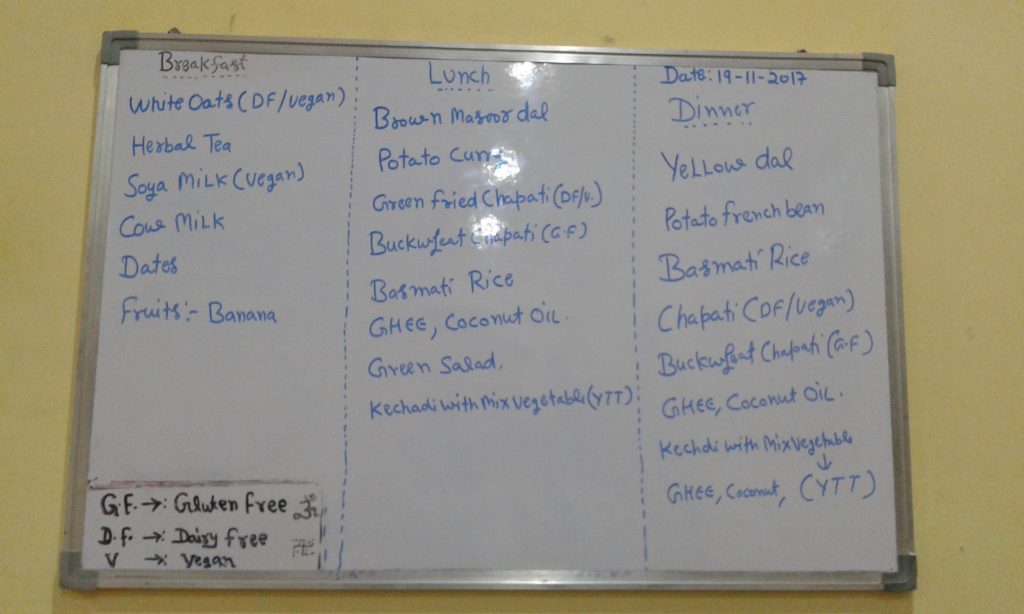 1-2:00 pm Self-study, rest
2:00-3:30 pm  Ashtanga Yoga Theory and Workshop
3:30-4:00 pm Tea break
4:00- 6:00 pm Ashtanga Yoga Teaching Internship
6:00 pm Dinner
7:00-8:00 pm Kirtan / Satsang/ Singing Bowls Concert, Meditation
Sunday is free and we invite you to some fun activities and sightseeing.
Day 14 Flight to Varanasi
In the morning we take the flight over Delhi to Varanasi, the holiest city in India for Hindus. Here we will take a guided walk to the bathing and burning ghats at the Ganges with a guide and watch the fire ceremony from the boat in the evening. Today also your closing ceremony takes place.
Day 15 Varanasi and flight to Delhi/onward flight to Germany
Early in the morning we get back on the boat. This time it's a little further up river to watch another fire ceremony.
Afterwards we can participate in a public yoga class.
Until the evening, the day remains free for further sightseeing and shopping. In the evening the flight goes to Delhi. Then flight back to your home..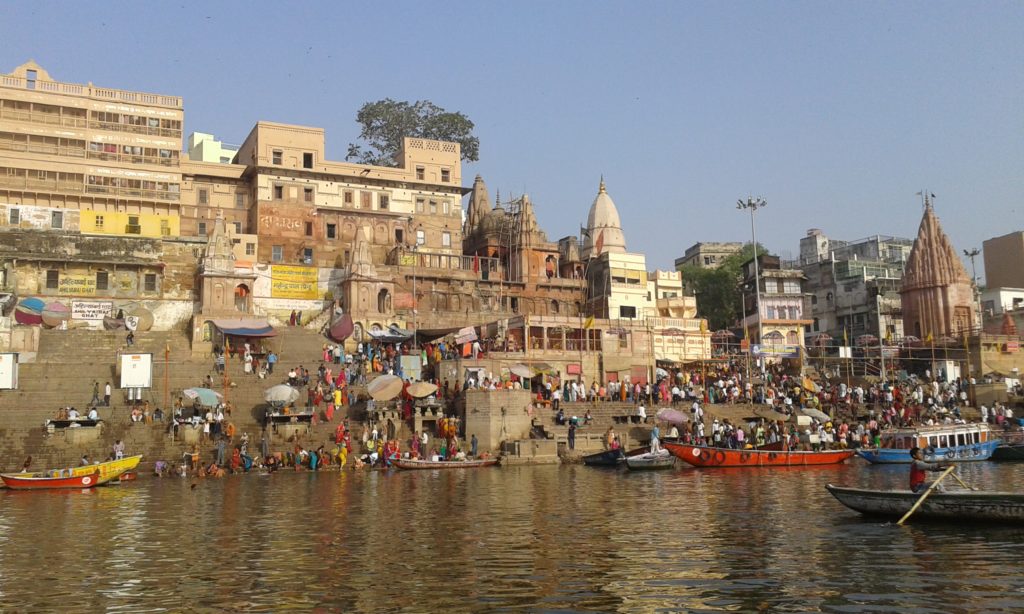 Included services:
(early arrival or late departure) 1 x hotel room with breakfast in Delhi (double room)
1 night in Varanasi with city tour without meals
Total transport with 2 domestic flights
Ashram in Rishikesh:
12 x overnight stay in a double or three-man room with attached bathroom
3 x daily healthy, vegetarian meals
1 x daily yoga class
Participation in ashram activities (Kirtan, singing, fire ceremony, meditation)
filtered water
Wireless
14 nights in a double room with attached bathroom
2 weeks 80-hour yoga instructor training certified with Yoga Alliance and course material
Certificate (training hours with the Yoga Alliance)
Not-included services:
Visa
International flight
unmentioned meals
fixed group date:
11.09.2021-25.09.2021
1550 € per person in a double room (4-16 participants) There are few single rooms available at extra cost, please make request.
YACEP (Yoga Alliance Continuing Education Provider), instructor and yoga instructor: Sarah and Noor
Sarah will coordinate all your lessons, theory and hands-on session. Both she and Noor are trained Ashtanga yoga teachers and are very passionately engaged in this strong yoga practice. Both were trained by very experienced Ashtanga yoga teachers throughout India.
To get to know different teaching styles, we will also participate in classes with other Ashtanga yoga teachers in Rishikesh.
The Ashram
The ashram was founded in 2007 by Yogirishi Vishvketu and offers a protected space for an intense spiritual yoga practice. It is located in Rishikesh, within walking distance of the sacred Ganges River.
In total there are 21 simple rooms with attached bathroom and balcony, on request also air-conditioned. The large, light-flooded yoga hall, clad in wood and bamboo, offers a very bright and clean, sheltered space for practice. There is also another yoga hall and a rooftop terrace for workshops and meditation.
The ashram has a prayer area where the sacred fire ritual takes place every morning. There is also a library, a reception and a dining room.
Wi-Fi and filtered water are available.
Please note the dress code: knee and shoulder-covered clothing is required, preferably in white.
From 9 pm until after breakfast, the silence period must be observed.
What to bring
Loose and light clothing (knee and shoulder covered, preferably white or bright colours)
a scarf
thick socks
Sweater
Flip-flops/lats
Towels
Sunglasses
Toiletries (sunscreen) and small medical equipment (in Rishikesh you can get everything)
Passport (copy), credit or debit card, some cash in your currency (approx. € 50-100),
Mobile phone, camera, charger (no adapter), maybe laptop
notebook, writing material
a lot of curiosity and excitement