15. April 2018 – 12:50
Amelie and Marlies are not only two very ambitious sportswomen, but also very adventurous travellers. Together they have been travelling almost all over the world. While Marlies is active in outdoor sports such as trail running, mountaineering, mountain biking and climbing, Amelie is an active triathlete and trains almost every day.
When the spontaneous travel request for a two-week active trip through the Indian Himalayas in the month of March came in, it was already a certain challenge for me. At the same time, however, I was looking forward to organise a very special trip, which is otherwise not booked by the "average" Indian traveller – if someone like this exists at all. I was aware that they are looking for a sporting challenge and at the same time want to immerse themselves deeply in Indian culture and way of life.
Well, the month of March is actually too early for intensive trekking tours and mountain bike tours. The higher mountain passes are still covered by huge snow masses, so that no crossing is possible for trekkers and mountain bikers.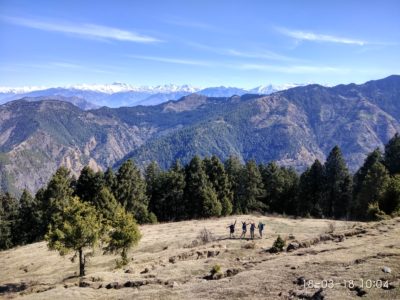 So I had to rethink a little: The trekking tour became a five-day yoga trek to the sacred mountain lake Kareri at 3000 meters, with hikes through traditional mountain villages in the vicinity of the Tibetan exile enclave Mcleod Ganjanj. Since the daily four- to five-hour hikes would be rather comfortable, this trek was perfect to integrate morning and evening yoga sessions into the tour.
For the mountain bike trip I planned a six-day tour through the low Himalayas from Mcleod Ganj to my hometown of Manali. I had never done the latter tour with Chalo! Travels, but I knew the stages from various previous mountain bike races and my own activities by bike.
Both tours were special in themselves and accordingly I was looking forward to the two weeks with the girls.
In fact, we had a great time together. Amelie and Marlies were super open-minded, both, regarding the tour and the Indian culture.
So the two approached their journey super flexibly and absorbed everything – including the culinary delicacies that were offered to us daily.
While we were accompanied and cared for by an Indian trekking team during the Yoga Trek, we spent nights during the six-day bike tour mostly in homestays in small hidden Himalayan villages.
The experiences were so numerous and impressive that you can't call them all here.
So we did yoga infront of the grandiose backdrop of Lake Kareri with snow-capped mountains in the background, were invited by our trekking chef to his home for a cup of tea, warmed  up in a small restaurant eating hot Tibetan noodle soup while it poured neatly outside. We climbed miles of ascents both on foot and by bike, took part in religious temple ceremonies, and rode through herds of sheep and goats.
The weather was very friendly to us and surprised us with mostly bright sunshine and temperatures, which made us sweat. But the rainy day during the first bike stage and the chickpea-sized hailstorm during the 2nd day of the bike trip, will probably not be forgotten any time soon.
Wherever we were, we tried the local specialties. In Baroth, for example, there were freshly caught trout from the clear Uhl river, in the traditional village of Jana we tried corn flats with mustard plant vegetables and mountain goat curry had to be put on the table.
While the yoga trek was rather gentle and we could enjoy not only the yoga classes, but also the mountain world with its mighty peaks, flowering rhododendron trees and fairytale villages to the fullest, we also reached our physical limits on the bike tour. By the way, not only trekking and yoga fit together wonderfully, but yoga also offers a wonderful balance for mountain biking and targeted yoga exercises can help mountain bikers to stretch and strengthen the right body parts, prevent injuries and also mentally prepare the ambitious mountain biker for hard workouts and races.
The girls took part in everything, rejoiced every single day and built up a very special relationship with our local team, which will probably last beyond the journey.
Thank you for the nice time with both of you. I really enjoyed being out and about in the Himalayas with such two sporty and open minded women. It's hard to believe that we used the rest day between the two tours for a morning mountain run in Daramshala!
Click here for more information about the mountain bike trip from Daramshala to Manali.
And here you get informations about our  Yoga Treks in India.